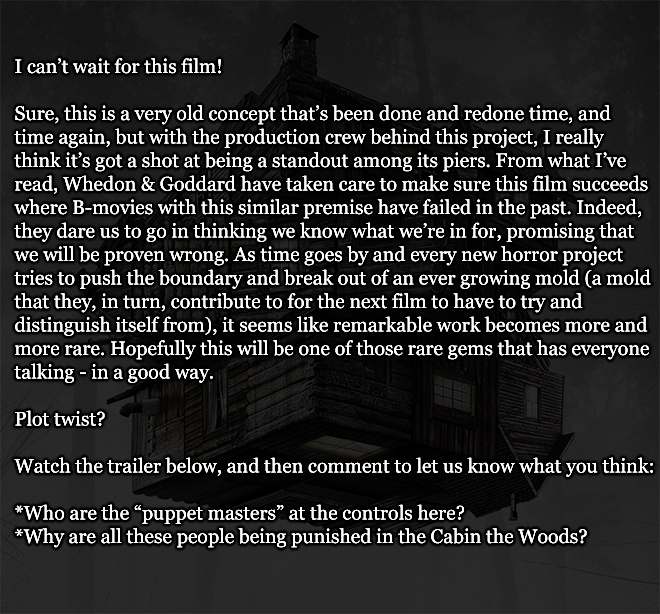 I can't wait for this film!

Sure, this is a very old concept that's been done and redone time, and time again, but with the production crew behind this project, I really think it's got a shot at being a standout among its piers. From what I've read, Whedon & Goddard have taken care to make sure this film succeds where B-movies with this similar premise have failed in the past. Indeed, they dare us to go in thinking we know what we're in for, promising that we will be proven wrong. As time goes by and every new horror project tries to push the boundary and break out of an ever growing mold (a mold that they, in turn, contribute to for the next film to have to try and distinguish itself from), it seems like remarkable work becomes more and more rare. Hopefully this will be one of those rare gems that has everyone talking - in a good way.

Plot twist?

Watch the trailer below, and then comment to let us know what you think:
Who are the "puppet masters" at the controls here?
Why are all these people being punished in the Cabin the Woods?
Ad blocker interference detected!
Wikia is a free-to-use site that makes money from advertising. We have a modified experience for viewers using ad blockers

Wikia is not accessible if you've made further modifications. Remove the custom ad blocker rule(s) and the page will load as expected.